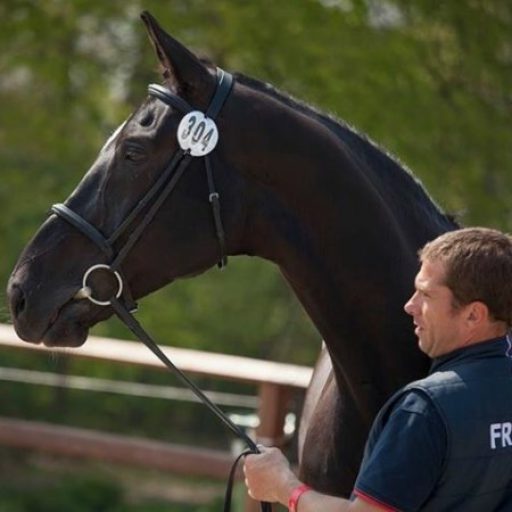 Born in Saint-Quentin (02) on January 24, 1974, nothing predestined me to become a rider of the French team of dressage handisport ….
I start riding at the age of 8 with pony lessons. At the age of 15, I return to learning lad-jockey and my professional jockey career starts.
On September 1st, 1994, I had a car accident the day after a victory of a big horse race in Belgium. The diagnosis is irrevocable: I must be amputated from my right leg.
After months of rehabilitation, I have to relearn how to walk, to adapt to my prosthesis. But the urge to go back on horse is still very present. I overcome my handicap and thanks to my practice, i acquire the strength to fight and make my life memorable and unforgettable.
2017
November 2017 : Champion of FRANCE at ST LÔ with Tarantino Fleuri.

September – October 2017 : Resumption of work slowly for Tarantino Fleuri after more than a year of convalescence
June 2017 : 3rd place at the CPEDI of SOMMA LOMBARDO (ITA) with Richardz du loing (horse entrusted by Miss Camille AUDO)
May 2017 : Not ranked at the CPEDI of ROOSENDAAL (NED) with Richardz du loing
April 2017: Not classified at the CPEDI of WAREGEM (BEL) and DEAUVILLE (FRA) with Richardz du loing
2016
November 2016 : Champion of FRANCE at ST LÔ with Voltaire de Bruyères.
August 2016 : Grand National Compiègne / 3rd in the PRO 3 event
May 2016 : ROOSENDAAL CPEDI *** (NED)> 10th of the team restart / 10th of the individual restart
March 2016 : National La Roche sur Yon (FRANCE)> 3rd on the team test restart, 2nd in the individual takeover imposed – National Le Mans: 7th in the PRO 3 / 1st event of the AM1 event
2015
June 2015 : Champion of FRANCE at ST LÔ with Tarentino Fleuri.
CPEDI *** Mulhouse (FRANCE) 4th in the imposed team test, 4th in the individual reign imposed, 3rd in the free music rehearsal
May 2015 : 2nd of the imposed team test, 1st of the imposed individual reign, 1st in the free music rehearsal
April 2015 : CPEDI *** WAREGEM (BELGIUM)> 3rd in the imposed team test, 6th in the individual reign imposed, 6th in the free music rehearsal
April 2015 : CPEDI *** DEAUVILLE (FRANCE)> 6th in the Nations Cup, 8th in the individual sanctioned competition – not qualified for free music rehearsal